1" Santa Claus Dog Collar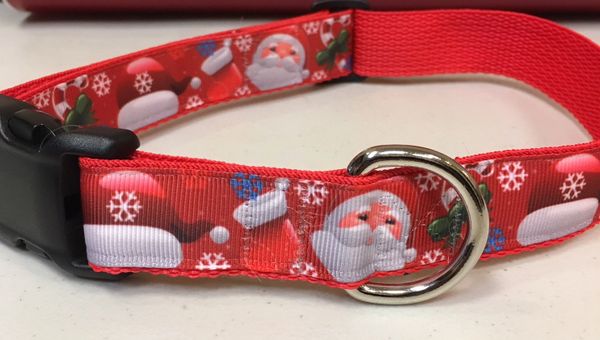 1" Santa Claus Dog Collar
Christmas dog collar handmade with red polypropylene webbing with Santa Claus grossgrain ribbon completed with a plastic snap buckle and stainless D-ring.
Webbing (backing) is a polypropylene webbing is a soft, flexible fabric of woven fibers. Made from thermoplastic resins, this versatile material is perfect for outdoor use due to its UV resistance and waterproof fibers. Wet polypropylene webbing won't stretch like nylon webbing and is more resistant to acid, alkaline, oil, and grease. Other Polypropylene Product Specifications:
Approximately .066" or 1.68mm thick
900 lbs tensile strength
UV resistant
Waterproof/mildew resistant
Melting point: 330 F / 165 C
Sizing for 1" width collars:
Small up to 18" for dog 17-30lbs
Medium up to 25" for dogs 31-70lbs
Large up to 32" for dogs 71-110lbs
XL up to 40" for dogs over 120lbs
Hurry before they sell out!
Reviews