Ruff Life Coastal Dog Bowl Collection, Starfish and seashells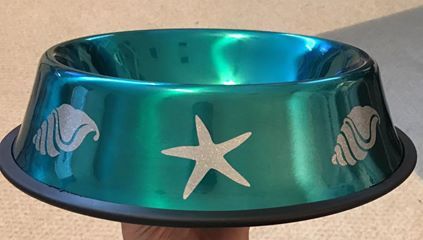 Ruff Life Coastal Dog Bowl Collection, Starfish and seashells
Ruff Life's original 2016 Coastal Dog Bowl Collection! Teal Metallic bowl with seashells and starfish glitter permanent vinyl added to make it special and match your home decor!
Bowl Details: The Platinum Pets Stainless Steel Embossed Non-Tip Pet Bowl's unique design will add color to your pet's meal every day.
The powder coated finish adds extra strength against wear and tear and weather and a lifetime guarantee against to rust, dents and chipping Each bowl comes with a durable rubber base designed to prevent spills and tipping by your hungry friend.

Lifetime guarantee against rust

Finished in a durable powder coat

Non-skid rubber base to prevent damage

Sizes:

Small Bowl measures at 7.6" L x 7.6" W x 1.9" H ; 16 ounce-2 cup (.5 quart) capacity
Medium Bowl measures at 9.45" L x 9.45" W x 2.4" H ; 32 ounce-4 cup (1 quart) capacity

Large Bowl measures at 11.25" L x 11.25" W x 2.65" H ; 64 ounce-6.25 cup (2 quart) capacity
Reviews