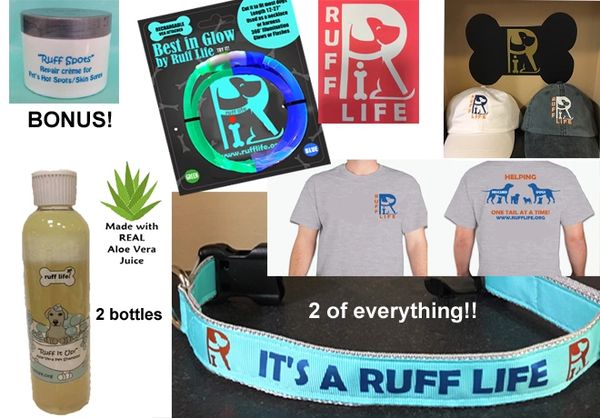 Great Dane Package
Great Dane Package #5: 2 Aloe Vera Shampoo, 2 LED 2 color Necklace, 2 T-shirts, 2 Baseball Hats, 2 Handmade Dog Collar, 2 Handmade Dog Leashes, BONUS Car Decal AND 2oz jar of "Ruff Spots!" Aloe Vera Skin Repair Cream
All Natural Aloe Vera Shampoo "Ruff it Up!"
Our All Natural Aloe Vera Shampoo is created and manufactured in the USA.  Aloe Vera is an all natural ingredient which cools down the skin for rashes, burns and allergies but then I found that most Aloe Vera shampoos on the commercial market contained oatmeal was an irritant for some dogs like mine.  As I found out more, I found that most companies use a dehydrated Aloe Vera powder which doesn't offer the same quality of Aloe Vera than using a Juice.  It's more expensive, but I found it makes all the difference I the world for my dogs.  My shampoo contains Aloe Vera Juice, water, Coconut Oil, Vegetable Glycerin, Jojoba Oil, Grape Seed Oil, Lavender Oil, Tea Tree Oil and less than 2% preservative. We left out as much as we can to put a product on the market that doesn't need refrigeration or extra care. You don't need extra cream rinses and you can wash as much as you need with our product and they SMELL GREAT!
Rechargeable 2 color LED Safety Necklaces
These safety necklaces are one of my best sellers for Ruff Life, BUT this 2 color combination in 1 necklace has NEVER been done before! These 27" LED Two color necklaces are rechargeable and can but cut down to fit most dogs necks, twisted into harnesses for smaller dogs AND they can be used for kids/adults for sporting events, fitness activities, concerts, holidays and other nights you want to light up the world!  We have picked our best selling colors (Green and Blue)and combined them into one necklace.  
Embroidered Hats
Our embroidered hats made by Adams.  These hats 100% cotton, low profile, 6 panel, feature a Cool Crown mesh material, adjustable leather strap with brass adjustable buckle.
We have added our new logo to the front of the hat.
Available colors White Hat with Navy Blue and Orange embroidered Logo or Navy Blue Hat with White and Orange embroidered Logo
T-Shirts
LAT 6901 Heather Gray 4.5oz combed fine ring spun cotton shirt is one of the softest cotton shirt on the market.  We screen our new logo on the front left pocket area of the shirt and added a new fun design to the back.  This shirt has never been offered as a part of the Ruff Life brand and it's new for this launch.  Available color: Heather Gray
Available Sizes: Small, Medium, Large, XL, XXL
Handmade Dog Collars
Our handmade dog collars are made with Heavy Weight Polypropylene Silver Webbing (holds over 2500lbs), our Jacquard designed ribbon sewn to the webbing and completed with a Heavy Duty plastic black buckle and stainless D-ring.  We created our own Jacquard (woven) ribbon for this campaign in Seafoam Green with a light blue and orange design.  This dog collar is 1" wide and can be made for dogs 15lbs up to 160lbs for this campaign.
Available Sizes:  Small  12-18" fits dogs 15-30lbs  
                                Medium 19"-26" fits dogs 31-70lbs
                                 Large 25-32" fits dogs 71-110lbs
                                  XL 31-40" fits dogs 111-160lbs 
Reviews