"Ruff Chewz" Elk Split Antler Chew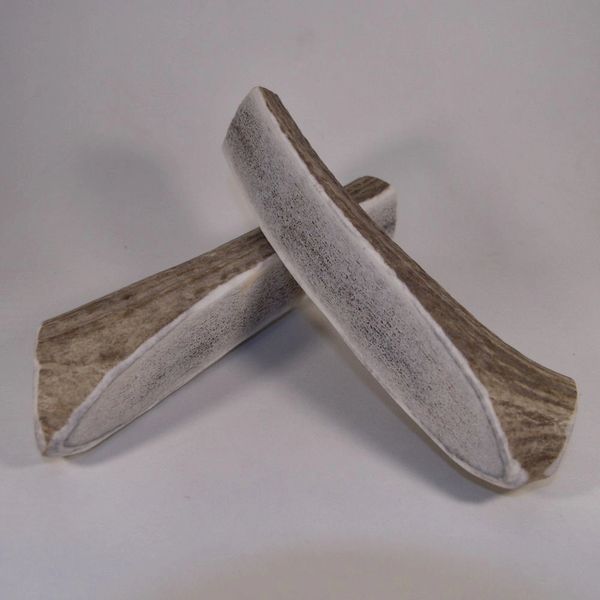 "Ruff Chewz" Elk Split Antler Chew
We are finding out the natural ways to help you dogs...Elk Antlers are great for helping clean dog teeth and freshen breath...AND the bone marrow is also a great way to help with Arthritis and acts at an anti inflammatory for joints and bones.
All our antler dog chews are all-natural as they come from wild animals or from farmed animals that are never given any steroids, unnecessary antibiotics or other growth promoting chemicals. Natural dog antler chews are much longer lasting than rawhide or synthetic chew toys, even longer than raw bones. this is due to their high calcium content of these bone-like natural growths.
Aler chew toys contain many of the best nutrients that your dog craves. A great natural source for calcium, phosphorus, potassium, sodium, magnesium, iron, zinc & manganese. All this in a compact, odorless and mess-free, all-natural dog chew form. Your dog will love em.
Our antler chews for dogs are all-natural products right off the animal. Every antler is different, hence each of our antler chews is different. That difference maybe why dogs find them irresistible. Our only processing on the whole antler is to power-wash with clean, natural mountain well water to remove excess dirt and miscellaneous organic material and then to cut the dog chew into manageable sizes and slice in half if desired by the customer. Each dog chew antler is hand-sanded to round the points and eliminate any sharp edges that might injure your pet. Additional antler cleaning may be necessary in your particular environment.
So with the Split Elk Antlers the bone marrow is exposed to make it easy for you dogs to get the marrow and get those wonderful natural ingredients. When trying to figure out what size is best for your dog it is good to get a size that might be a little larger because if they are too small for your dogs they can crack them and they can cause damage to their teeth.

We buy these direct from Southwestern Colorado where the Elks naturally shed their antlers a few times a year. No animals are ever hurt or injured in this process.
We offer 3 sizes of Elk Antlers:
Medium 5-7 inches long: Great for Small-Med dogs (first picture with red pen)

Large 7-10 inches long: Great for Med-Large dogs (second picture with red pen)

XL 12-14 Inches long: Great for XL dogs (Third picture with red pen)

Reviews